Head Shares Thanks for Student Voice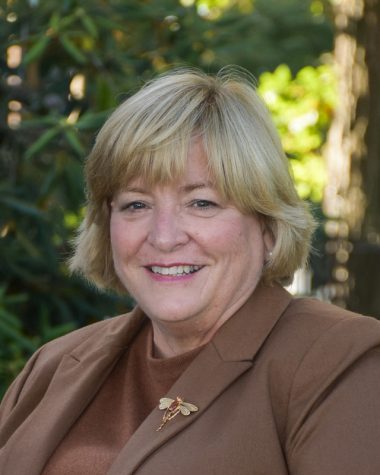 Welcome to our Thanksgiving Assembly. It is wonderful to see so many guests here today. We have had a delightful fall at Brimmer. We have enjoyed watching spirited athletic matches, outstanding creative arts performances, and an array of purposeful learning — both in and out of the classrooms.
Each year we have a theme for the school year that helps us highlight a portion of the School's mission. This year's theme "Responsible Leadership and Student Voice" has opened up several conversations throughout the school this fall.
As our Middle and Upper School students strive to become ethical leaders in our diverse world, they have been given many opportunities this fall to share their opinions, interests, talents, and knowledge and develop their unique voices. I enjoy listening to teenagers navigate topics and express their ideas, and it is inspiring to hear their persistent optimism and youthful convictions.
I am grateful for our faculty and staff who create a curriculum, make the time, and give the space for the voices of our youth to be heard and understood.
As a result, Brimmer offers a culture where ideas can be vetted and shared. In a recent speech delivered at the annual dinner of the Committee to Protect Journalism in New York and subsequently captured in The Atlantic's article, The World's Most Valued Troublemakers, the importance of listening to the stories that bind us as a society is critical.
In the program's evening remarks, it was expressed how "Journalists seek out the voices that all too often go unheard – the marginalized, the oppressed, the dispossessed. They provide context to complicated narratives. They inform, enlighten, and entertain. They allow for shared moments of levity and empathy. They head out into a different and complicated world, and tell us stories that allow us to learn, to make informed decisions at the ballot box, and to remain smartly engaged in civic life."
I would like to share with you some of our students' thoughts on various complex subjects in their effort to be an informed and enlightened group of students. You will hear voices with empathy, conviction, and decency. The topics I am sharing include the importance and limits of academic subjects, fairness and ethical behavior and the lack of it in our society, the ability to manage social pressures, and the importance of checking habits that cause distraction. While our students have plenty to say about the political climate and behavior of politicians, in the spirit of Thanksgiving, I decided to leave those out of my remarks.
In an effort to frame this year's academic theme for the student body, members of the Gator staff wrote about how they saw evidence of responsible leadership and student voice through involvement in the Judicial Board. They wrote:
"The [Judicial] Board embraces empathy in order to foster justice—not punishment. The ultimate goal is to decide how a student can best reengage with the community, while also learning from past mistakes.
While the Judicial Board is one example of a critical place where student voice matters, there are also plenty of other ways for students to express themselves. We have the opportunity to sit in on Senate meetings or run for a position, reach out to the administration, start a club, do community service, or write for The Gator."
In an op-ed piece this fall, Nate Suraci wrote on the subject of learning a foreign language and challenges the school's three -year language requirement while endorsing the importance of a computer science language, saying:
"I'm not suggesting that languages shouldn't be taught in school. I think language classes teach critical thinking, patience, and respect for other cultures.
I agree with [Mrs.] Goldberger. Individually, foreign languages and computer science are important, but when studied in tandem, the disciplines have the potential to open new opportunities for students.
Foreign language and computer science provide valuable and practical skills, but they are not for everyone. While introductory courses should be required, higher-level [language] classes should be optional."
Senior Camille Cherney responds to the issues of fairness and morality surrounding the higher education scandal that pervaded the news last summer and throughout this fall. She writes:
"I am happy to see that the corruption that pervades higher education is being exposed. As a college-bound high school senior, I was especially enraged by the scandal. My peers and I work hard to earn our grades and test scores, so it was disheartening to see money triumph over merit.
Most of the families involved in the scandal are wealthy and white. With these privileges, they already have access to services like SAT and ACT tutoring and private admissions counseling, which can cost thousands of dollars. Resorting to bribery and dishonesty is both unnecessary and immoral.
We may never live in a true meritocracy, but these lawsuits are a first step towards a more equitable future. As long as we continue to strive for equal opportunity, I have faith that we can enter a new era of educational justice."
Every young person deals with the pressures of body image, and Grace Papas shares her views on our society's obsession with beauty when she writes:
"Why is appearance so important in our culture? Such insecurities can feel crippling.
Accepting your reflection can be difficult, but you have to remember that it's your body and your life—and nobody's opinion is more important than your own."
Fitting in with a group of friends occupies our hearts and minds, and Ava Lockhart shows empathy and understanding for social pressures and gives voice to those who may feel marginalized when she writes:
". . . don't be afraid to talk with someone who's struggling to find a place in the crowd. You might just help them feel a bit more comfortable."
Nothing can be more divisive and controversial than the generational debate on the use of our mobile devices. Just take a look around and most people on the streets, sidewalks, and coffee shops have their eyes on their phones. Zoe Kaplan wrestles with the use of devices, and states:
"Social media, which is ubiquitous, can't and shouldn't be forbidden. But as a community, we must continue to engage in discussions with our peers and teachers about healthy and unhealthy use."
These are just a few of the dozen comments our students published under their own names and have demonstrated how they take responsible positions on rather controversial subjects. Our students are demonstrating how their voice matters, and they have taken the responsibility to do so with respect and care. They have built a shared experience that binds our community together with important ideas for all to consider.
This Thanksgiving, I am grateful for this school community and how the young people we educate uphold the importance of having a voice, one that exhibits respect and responsibility.
-Cartoon by Ava Lockhart '21, who writes and draws for The Gator, the award-winning student news site of Brimmer and May, where Judy Guild serves as Head of School.